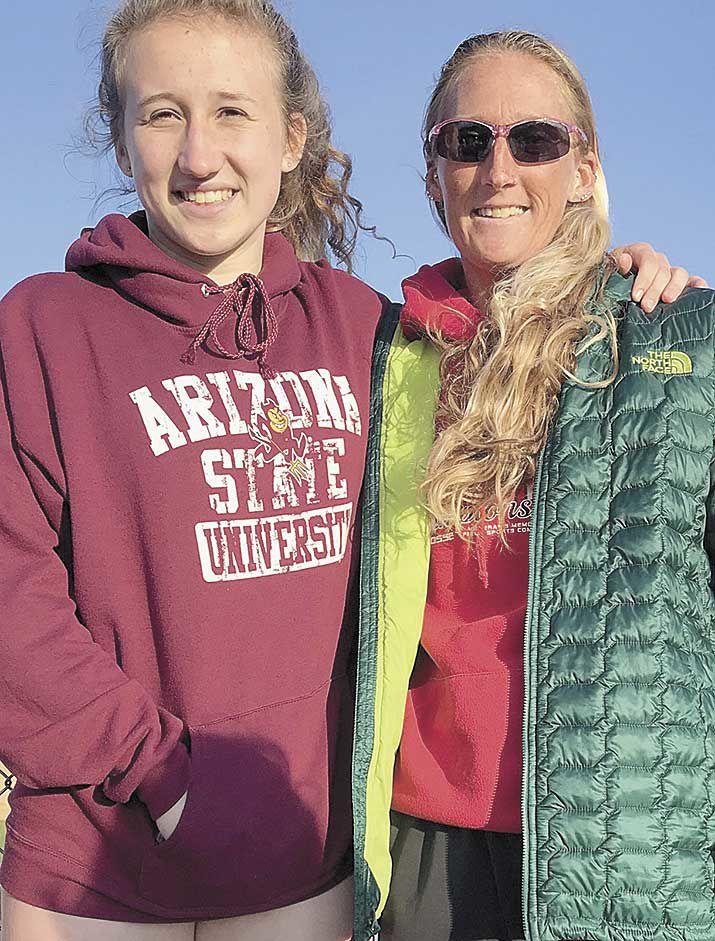 In the spring of 1997 a St. Croix Falls senior stepped to the starting line for the 100m dash. In a blink of an eye Tammi Berg cruised to a new school record for the Saints. Berg went on to break her own record three more times that season with her fastest time being 12.67 seconds.
"I was shocked at first as I had been dealing with asthma issues all through the season," Braund recalled. "It was a great feeling."
Since the record breaking performance in 1997 Berg became Tammi Braund and she began raising her family including high school daughters Jordan and Sierra. Jordan is the oldest of six children.
"Jordan is the daughter that made me a mom," Tammi Braund said. "She has been great since the beginning."
Tammi Braund is very athletic. Her enthusiasm for sports has rubbed off on her entire family. Both Jordan and Sierra have competed with the Saints' track and field teams, three years for Jordan who just finished her junior year and one for Sierra who was a freshman last season. The Saints have been conference champions each season the Braunds have been a part of the team. Sierra has taken a liking to the distance events where Jordan is following closer to her mother's footsteps as a sprinter.
Jordan Braund's sprinting ability was evident as a freshman. As a sophomore she continued to cut her times. Who knows, maybe mother Tammi's school record could be taken down. The record held through 2018. Would Jordan break the mark of 12.67 seconds as a junior? Would the 22-year-old record finally fall?
Jordan Braund was in the middle of a very good season but had not yet broken her mother's record. On May 23 the Saints were competing at the Sectional meet in Mosinee. Finally, it happened.
"When I had just finished my 100 prelim trials I knew I had just ran faster than I had ever before so I was hoping that I had broken the record," Jordan Braund said. "I tried to look at the live results online but didn't have any service so it was a long wait to find out if I actually did. It was my mom who really told me first. She texted me '12.47' (seconds). I read it and dropped my phone. I got chills. It was crazy achieving my goal I had tried to get for so long."
"I couldn't get to her to tell her the time but she then ran the finals and when she finished as the Sectional champ I yelled for her to come over to me," Tammi Braund remembered. "I gave her a huge hug and said Jordan you have my record now."
Jordan Braund was aware of the school record and had made it a goal of hers to keep the record in the family. She was fully aware of what the record was and what she would have to do to finally get a new name on the SCF record board. It wasn't just any school record, it was different.
"I believe the record was much more special being it was my mom's," Jordan Braund said. "Because it was hers I had known about it and memorized the number and made it my goal."
Jordan Braund has scored several points for the St. Croix Falls track and field team in three years and has helped the Saints continue their streak of eight straight conference championships. Her contributions to the team, however, are more than just in the points that she secures for the team.
"Jordan is a fantastic athlete but she is an even better person," St. Croix coach Steph Belisle said. "She is kind, polite, and brings a fun, upbeat attitude to our team. Jordan is encouraging and supportive to her teammates on a daily basis. You seldom see her without a bright smile. She is also an excellent student in the classroom and I am thankful she is a Saint."
Besides track and field Jordan Braund had an exceptional powerlifting season, carries a 3.8 G.P.A. and works part time at Caribou Coffee. During the summer she will continue to work hard at powerlifting and keep in shape for track as she has one more season to break her own 100m dash record.
"We always talked about how awesome and fun it would be to have my own child break my record," Tammi Braund said. "She did it. I am so happy for her. I was in shock and holding back the tears of joy. I hope this record stands for another 22 years and her own children break it for her. A really fun experience for us both."