A plane engine drones in the sky above William Patten's Osceola townhouse. It's a fitting backdrop for the centenarian's stories. In the final years of World War II he flew a B-17 bomber. Now, days shy of a century old, Patten recalls his days as a pilot in the U.S. Air Force with rich detail.
"My first duties were in Yuma, Arizona flying gunners for air practice," he says. "After that they sent me to Dyersburg, Tennessee. There I became a pilot getting ready for combat overseas."
As a child in Kansas City during the Great Depression, it's unlikely Patten would have guessed he'd ever fly a plane.
"Our family had a very difficult time," he says. "My father was a bus driver. I remember vividly him coming home and saying he lost his job. From then on it just went down. It seemed like we were moving every four or five months to a smaller, cheaper place. … My mother was well educated and would've been a contributor but she was very ill."
Patten graduated from high school and joined the workforce. Two years later, he'd saved enough to begin college.
"I picked a college close to home so I could stay at home at night and not have the expenses," he says.
His mother, still ill, died of cancer when Patten was in his early 20s. She was 49.
Eventually, though, Patten's circumstances began to improve. He found the love of his life, a young woman named Pearl. They married.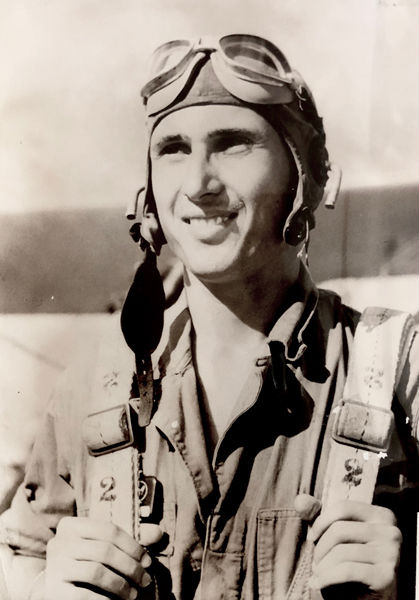 And after graduating with a degree in aeronautical engineering, Patten took a job devising replacement parts for the production line at Beach Aircraft in Wichita.
"At Beach I had an opportunity to fly with the test pilots," Patten says. "It was probably five times in my career, but it gave me a little bit of an idea that I'd like to be a pilot."
Meanwhile, in the wider world, the U.S. had been drawn into World War II.
"The war was going on pretty strongly," he continues. "I wasn't sure where I stood. I was married and thought I'd have to go into the military, so I volunteered for the Air Force. I was able to get into pilot school."
At first, Pearl traveled along as Patten trained in California, Arizona, Texas and Tennessee. Then the couple had their first daughter, Cheryl.
"My wife tried to follow me but it was very difficult," he recalls. "So she went back to Kansas City to stay with her folks."
In early 1944, Patten was stationed overseas.
"I was assigned a crew and a brand new airplane," he remembers.
The four-engine heavy bomber required several stops to get to Europe.
"We flew it over to Italy where I was stationed," he says. "From Lincoln, Nebraska to Manchester, New Hampshire to Gander Field, Newfoundland. To the Azores [Portugal]. To Marrakech, Morocco. To Tunis, Tunisia and then on to Italy."
The 15th Air Force, a U.S.-Italian force, stipulated that pilots must fly 50 missions before returning home. However, some missions were considered "double" based on the number of miles flown. When the war ended in 1945, Patten had flown 19 missions but was credited with 34.
"I was never injured," he says. "One of the other pilots flying with me was injured. My tail gunner was injured and, I think, one of the waist gunners. But we were very lucky to come out with very few injuries."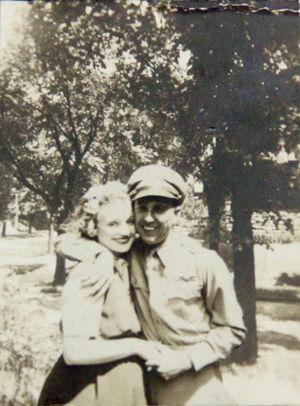 He returned home to his wife and daughter, and took a job as a sales engineer at the Butler Manufacturing Company. He and Pearl had another daughter, Lisa, and raised the girls as he was transferred to Birmingham, Alabama, then to Minneapolis. The family lived in Edina until Patten retired in 1982.
Bill and Pearl spent nearly two decades in their cabin on Deer Lake in St. Croix Falls. But after Pearl developed Alzheimer's, they decided to sell the house. They moved to a town house in Osceola, in which Patten resides today. He lost Pearl in 2011.
Patten, who walks without so much as a cane and continues to drive, is a regular at the Osceola United Methodist Church.
Four days a week, he works out at the Wild River Fitness Center.
"I'm not sure it's the secret to my longevity," he said. "But it makes me feel better."
Of growing up during the Depression, Patten sees the best.
"As far as I'm concerned it had some strengthening effects," he said. "I think I handle my finances correctly and I think I've taught my children what they should and shouldn't do. They're both married and successful."
He is a grandfather to five and great-grandfather to 17. But if you ask, he'll say turning 100 isn't such a big deal.
"My health is good and I do about everything I want to do. I don't have any problem sleeping. I do my own cooking. Age, right now, is not a factor to me."