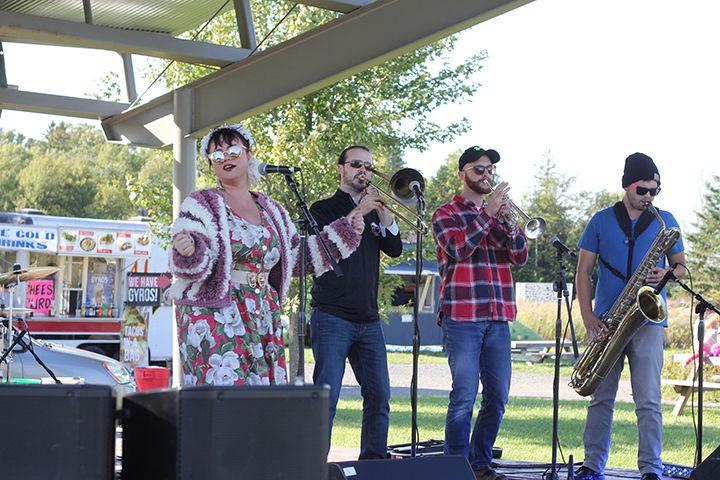 Now in its 23rd year, Franconia Sculpture Park has perfected the ultimate summer music series. Visit Franconia's Earthen Amphitheatre June 22 for headliner Jaedyn James and The Hunger, with opener Prairie Fire Lady Choir.  
If you go ...
What: Music@Franconia on June 22: Jaedyn James and The Hunger Where: Franconia Sculpture Park, 29836 Saint Croix Trail, Franconia, MN 55074 Highways 8 and 95, Chisago County, 3 miles west of Taylors Falls, MN  When: Saturday, June 22, 2019, 2-6 p.m.  Details: For more information visit www.franconia.org
This event promises to keep audiences moving and grooving during an afternoon of raw funk and aggressive soul. Bring a blanket, grab a bite to eat from either Yummies (Greek), Asase Yaa Global Foods, or Cotton Candy Ice Cream. Visit Mary Johnson's famous Lizard Lounge for a Freezie Pop and a beverage. Enjoy an afternoon of song, dance, and sculpture. 
Concert admission is free - parking is $5 per vehicle. Concerts take place between 2 and 6 p.m. Free tours of the park exhibit between sets. In the event of rain, Franconia has a large tent set up to shelter guests. All events are family & dog friendly, please pick-up after your furry friends. 
Music@Franconia takes place among Franconia Sculpture Park's interactive, cheerful, and dynamic sculpture exhibition with 120+ sculptures made on-site by Franconia artists-in-residence. Bring a blanket or lawn chair and enjoy the afternoon with friends, family, and community.
Save the date
July 20, 21, 27, 28, 31, August 1, 3: Community Mold-Making Workshops July 27: Music@Franconia: Scottie Miller Band August 3: Community Collaboration Hot Metal Pour August 31: Music@Franconia: Ipso Facto September 28: Art & Artists Celebration Visit www.franconia.org/events-programs to learn more.
2 p.m. Prairie Fire Lady Choir
Prairie Fire Lady Choir (www.prairiefireladychoir.org) is a Twin Cities-based, a cappella singing group of sixty members who raise their collective voices across the state in support of art, community, and creativity. Formed in 2010, PFLC offers a supportive, fun, and educational environment to explore musical passions. The current repertoire includes covers from local artists Aby Wolf, Prince, The Replacements, Matt Latterell, Chris Koza as well as original compositions from talented choir members. 
4 p.m. Jaedyn James and The Hunger
Jaedyn James (www.jjandthehunger.com) is the lead of the eight-piece 'Raw Funk & Aggressive Soul' band called The Hunger. Consumed by her passion at 24 years old, James quit her full time job and assembled a group of musicians based out of Minneapolis, Minnesota. JJ's work ethic, energy, and music reflect the stylings of James Brown, Etta James, Lucille Ball, Marina Abromovich, and ee cummings. The combination of a powerful, modern woman using vintage sounds and attitudes is not only refreshing, but cause to celebrate.  
Music@Franconia is made possible, in part, by the voters of Minnesota through a grant from the East Central Regional Arts Council thanks to a legislative appropriation from the Arts and Cultural Heritage Fund.