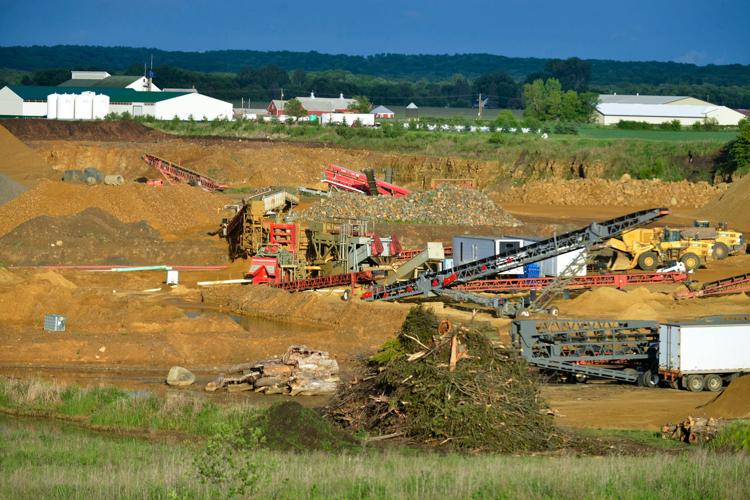 After an April 26 blast at a Farmington mine rattled homes near Osceola's southern border, residents of both municipalities are asking Osceola's village board to take action.
"About six weeks ago there was a loud bang and all the houses in my neighborhood shook," Mike Forecki, an Osceola resident who lives on Ridge Road, told board members June 11. "My neighbors, a
lot of them ran out the door. Some of them thought it was perhaps an earthquake. Others thought maybe a rock ledge had fallen down. Really what it was, was our first notice that they were now mining for frac sand down at the old Rybak mine and gravel pit. So we started scrambling for information."
The mine had been sold to North 40 Resources in January. Under the new owners, activity at the mine was increasing.
While Rybak mined about 150,000 tons of material a year, the new owners say they plant to mine 400,000 to 500,000 tons this year and up to 700,000 tons in the future.
Addressing the Osceola board, Forecki voiced concern about that final figure.
"That means five times the blasting, five times the noise, five times as much traffic," he said. "And I would argue more than five times the adverse affect to water and air quality because of the type of mining they're doing."
The new owners have begun mining for silica sand, sometimes called "frac sand" for its eventual use in hydraulic fracturing. The process requires washing the sand with a chemical flocking agent. Forecki expressed concerns about the flocculants and about airborne dust.
Beyond concerns of the mine at its existing size, Forecki noted there is potential for the mine to grow. North 40 Resources confirmed they have discussed buying 200 acres to the south of their operation with the owner of that land, but the plan is not firm.
Although the land sits on Farmington's northern border, it is nearly surrounded by Osceola properties.
"Even though the parcel and the land to the south are located in the Town of Farmington, it really affects village residents," Forecki said. "All the homes along Ridge Road, the hospital, Christian Community Homes, a new [elder] care center is nearby. The soccer field is right here."
Dan Guenthner, a Farmington farmer and board member of Standing Cedars Land Conservancy, also addressed jurisdiction.
"The Town of Farmington is getting a tonnage assessment on this," he said. "The residents of the Village of Osceola are getting the noise and the traffic."
Guenthner noted that while the mine is increasing Farmington's commercial tax base, in Osceola the activity could bring property values down.
"We know this mine is outside your jurisdiction," Guenthner said. "But we are asking for you to find a way to work with the Town of Farmington supervisors, with the county and other governing authorities to find a way to regulate, to limit and to stop the expansion of this mine."
Others, including fourth-generation Farmington farmer Roger Mussell, Watershed Cafe co-owner Rita Rasmuson and resident David Aichinger expressed concerns about health, safety and economics.
The owners of North 40 Resources, Pete Olson, Matt Torgerson and Mike Hanson, also addressed the board June 11, saying the public was under informed about operations at the mine.
"They talk about water quality," said Torgerson, "We're internally drained. No water can go off the site. We are highly regulated by the DNR. The permit we had to get is called the Industrial Sands Permit. … The DNR goes through a process to make sure we meet all the criteria. Flocculants have to be approved. There's one chemical we use to wash silica sand. It's the same flocculent that was used in building the bridge over the St. Croix River because it was a safe flocculent. They approved it."
"Dust control," he continued. "We water the site continuously. These piles that get wet processed come into the stacking pile at anywhere from 8 to 15 percent moisture. There's no dust."
Torgerson noted that the mine permit under Rybak had approved mining to 800 feet.
Olson added that news of the Rybak sale and mention of potential silica sand mining had appeared in the Sun in January. He did not note, however, that based on information given at the January meeting, any expansions or changes such as mining for silica sand were to be subject to new permits and public discussion.
Torgerson added that he thought the association between silica sand and hydraulic fracturing was causing undue alarm.
"I started to mine in 2011 in Barron, Wisconsin," he said. "Farmers use this same sand for bedding sand, but as soon as people hear the word frac they start freaking out. We assume they maybe correlate frac to fracking, what the sand is used for in oil and gas wells.
"Silica sand, just so you know, the beaches we play on all across the country is silica sand. We lay in it. We play in it. The word frac gets so misused to the point to the point where it's a whole different animal.
"We're not discrediting anyone's questions. We're here to answer and to educate. But when we see misrepresentation of what we are doing we obviously have to come here and try to educate on what the facts are.
"We did have one bad blast that was uncalled for. It was loud. … Instead of going down, the blast went up. That hasn't happened since."
The group later said April 26 was the last time they blasted.
"Initially getting up and going requires a higher level of production to be able to meet the needs of the local market.," Olson said. "So that's what we did in the beginning and now we've kind of leveled off."
Said Torgerson, "We've brought in different equipment to try to do what we can not to have to blast. … We are trying to do the right things to minimize the blasting. But will we tell you we're never going to blast again? No. You can probably expect once a month. We're going to try to do less, but that would be a good basis for what you can expect."
Osceola Village Board members told the audience who'd packed the room that they were only beginning to gather information on the topic.
Addressing Forecki, Village President Jeromy Buberl asked, "What's the end goal? What would you like to see?"
"Our goal?," replied Forecki. "Ideally I'd like to see it go back to the gravel pit it once was. It would've been nice if someone had studied this before it was permitted. … I'd like to see no expansion. I'd like to see a lot more restrictions put on the mine. Third, I'd like to see a lot of studies done to check air quality and water and not take the miners' word for it.
"From you guys? I'm not sure what you can do. I don't know all the tools you have in your toolbox, but I know you have much more ability to influence what the Town of Farmington does than I do as a resident of Osceola. And, no doubt about it, this is affecting the Village of Osceola. That's why these people are here."