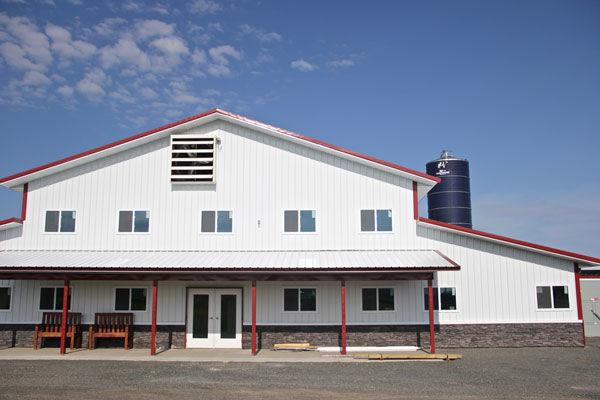 Steven Kicker had worked for Troy and Barb DeRosier's Crystal Ball Farms for seven years when the cow barn burned to the ground last March 29. He recalled the frightening day nearly 15 months ago when he and a half-dozen other employees lost a longtime source of income, thanks to the electrical fire.
"Some guy came off the highway and said 'Hey, your barn's on fire,'" Kicker remembered. "Troy wasn't there."
Far more than that initial passerby came to the farm's aid, however. After he and then-creamery manager Jessi Fouks called 911, they managed to rescue most of the animals from the burning cattle barn and kept them from wandering out onto the road with the help of other drivers who stopped along the roadside.
Only two cows perished during the fire, though several others died later as a result of lung damage. For the next eight months, the surviving cows were relocated to another farm while Crystal Ball contended with the $2.8 million task of rebuilding.
Now, six months after the cows' return, June 12 marked the formal resumption of business as usual at 527 WI-35.
"We don't go anywhere. We can't afford anything. We're just trying to get things back going again," Troy DeRosier said. "We had to borrow a lot of money, and there's not enough income to cover everything right now. There's more debt than there's money coming in."
The debt, however, has enabled construction including a slatted-floor barn with a manure pit, a milking parlor and a 90-foot silo that holds as much feed as the farm's other three combined.
While the previous barn was similarly tunnel-ventilated, the new structure, which was responsible for six-sevenths of the farm's total reconstruction costs, offers a new perk.
"Before … we did have pits underneath, but we had to scrape [the manure] into the pits," DeRosier said. "Here we don't do any scraping."
Another casualty of the fire was Crystal Ball's longtime organic certification.
"We're not organic anymore," DeRosier said. "It has everything to do with the fire… We lost the certification, 'cause the cattle had to leave here."
He believes that this change will not greatly influence the farm's future dealings with companies that used to carry their products, but suspects some customers will no longer purchase Crystal Ball dairy because they want the certification.
"[Going organic] was mainly marketing, you get a higher price for your product," DeRosier said. Now, Crystal Ball will be using the products' non-GMO status as a selling point. "[No longer being organic] does help as far as the production end of it, 'cause we can push the cows a little bit more now without being organic, so we get higher production."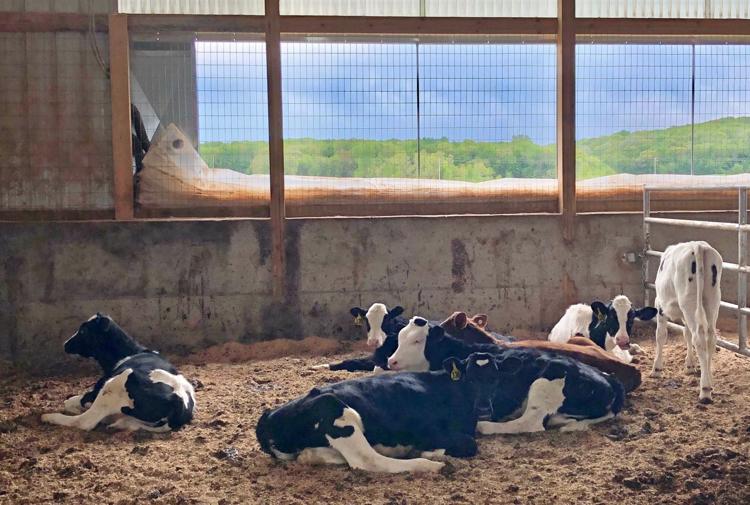 Although the farm's creamery was unhurt by the fire, DeRosier says reviving it has been one of the most challenging aspects of preparing Crystal Ball for reopening. With no milk to process, it sat dormant for 15 months.
"We weren't set up to bring milk in at the time of the fire, we could only use our own milk," DeRosier said. "Getting it back going after sitting for a long time, too, is difficult, a lot of things don't work. Even though it wasn't physically damaged by the fire, it's proven to be the most difficult to get back going."
There was also the loss of employment for workers such as Kicker. Although he will return to working at Crystal Ball, it took him three months after the fire to find new employment.
Another employee, Brad Gross, is now retired and says his main concern was for the
"They're just excellent people to work for," Gross said. "I really felt saddened, cause they came very close to losing their livelihoods completely… I worked at Andersen Windows in Bayport as a supervisor for 20 years, and if that place had ever burnt down I would've been devastated too, 'cause that was my income, my livelihood."
Troy DeRosier echoed these sentiments of loss of livelihood.
"Money was never an issue, we always had enough to cover everything and farm the way we wanted to farm. Now it's a major issue. We cut out a lot of things. I'm chintzing on some fertilizers and stuff that I shouldn't be chintzing on, cause I just don't have the money to pay for it."
However, he was optimistic that the creamery will come to save the day.
"We need to get the creamery operational," he said. "That'll cover everything."