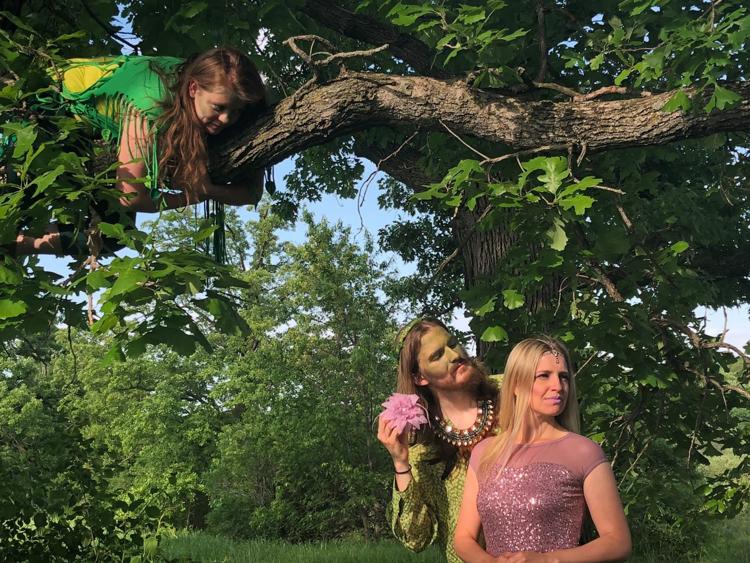 Summer has arrived in Wisconsin, and with it comes the dawn of another season of performances at the St. Croix ArtBarn. This year's beginning, however, marks two new milestones in the theatre's 25-year history. "A Midsummer Night's Dream," which opens June 20, is both ArtBarn's first Shakespeare production and its first outdoor show.
Instead of taking place indoors in the 180-seat performance theatre, "Midsummer" will be staged in the Oak Grove to the barn's north — weather permitting, of course.
"This is the first time the ArtBarn has ever done a play outside. That's a challenge," director Cheryl Starr said. The cast and crew were up for the task, however. "We just thought it would be fun to be out here, because most of the play takes place in the woods. Just being able to hear the birds would be … appropriate."
One of the bard's best-known comedies, "Midsummer" is a tale of several cases of unrequited and star-crossed love, and the magical measures taken to remedy them, within a mythic Greek setting. ArtBarn's interim executive director, Gabrielle Ford, plays Puck, the roguish sprite that sets all the hijinks into motion.
"Puck isn't traditionally played by a female," Ford said. "It's been kind of fun to bust out of that traditional gender-cast role."
Though Starr is an ArtBarn novice, she and Ford have a thespian history together. When the former lived in Spooner, she directed Ford in a play at the University of Wisconsin - Superior. The pair temporarily lost touch, until Starr moved to Osceola due to her husband Jack's job as a United Methodist pastor (Jack is also in "Midsummer," playing Egeus). Upon attending her first ArtBarn show, she recognized Ford in the cast and they reconnected afterwards.
"I begged [Starr] to direct our Shakespeare show this year, 'cause she used to teach Shakespeare," Ford said.
Starr's expertise has certainly come in handy. Though some cast members are the right age for Scholastic book fairs and others qualify for senior discounts, most are new, like the ArtBarn itself, to performing Shakespeare.
Seth Haskin, who plays Oberon the fairy king, credits "Midsummer" for sparking his interest in the 16th-century playwright. After reading it in high school English class, "we went to go see the play, and I found it hilarious."
Now the community of Osceola has the same opportunity for laughter as Haskin's high school self.
If you wish to see this mischievous romp, performances will be held in the Oak Grove outside the ArtBarn on 1040 Oak Ridge Drive, at 7 p.m. on June 20, 21 and 22, and at 2 p.m. on June 23.